Printed School Folders
Keep you school reports, presentations, mailshots and more organised in folders that are branded with your schools logo and colours. We off full colour printed folders with optional folded pockets.
Bespoke Design and Fast Turnaround
Portrait, Landscape or Square Available
Various Shapes and Sizes
Competitive Pricing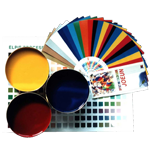 We can supply your school or college with printed luxury presentation folders and also short run budget folders.
Small schools can often be at a disadvantage when it comes to printing presentation folders, ring binders and bespoke folders as these are often more cost effective to order in larger quantities. Therefor often schools result in buying a budget folder or binder to ensure they stay within their budget. The problem with this is that often printers will use flimsy stock that can be bent or creased with general use or when posted, we have even heard of some clients having to partly assemble folder once they have been delivered.

Why our folders could be the answer for your School
Well we offer a complete folder printing service for schools of any size, it does not matter if you have 50 or 500 pupils. Our stat of the art printing press is capable of delivering high quality results enabling you promote your school or college. Printed presentation folders are the perfect way to exhibit your schools prospectus or organize reports.
Educational institutions often find that presentation folders are a lot more flexible than traditional booklets and brochures mainly because of the capability to swap the pages of the folder to suite a specif presentation or review. Schools and Colleges might also find it helpful to tailor the mix of content to suit a certain subject or pupil on an open event.
Having a quality branded folder helps ensure that the first impression that potential students get is the best possible, the design is also fundamental to getting that wow factor that can help secure their interest in your college. We are able to print from your existing art work and even make amendments to your existing art work. If you do not have artwork we have a dedicated design team who are used to dealing with clients within the educational industry.
There is a vast number of options available when it come to customizing your folders, many clients opt for a internal pocket capable of holding additional sheets and business cards. Some of the additional options are listed below, if you have a specific requirement please feel free to complete the quotation form below detailing your customization.